Our meetings- Updated Monthly - See you Monday, April 4!
NO MEETING FOR FEBRUARY OR MARCH -
We have listened to our members and are not holding meetings during the month of February or March.
We plan on returning Monday, April 4, 2022. Look for your newsletter to come in the mail for both March and April.

Yvonne Muelle
r will
be the featured artist
at our April meeting plus a few young stars as well! We look forward to seeing every one come April 4 for a great night of accordion music and friendship!


JAN 2022 - SECOND MONDAY - January 10 at Joy Luck
We welcome you to our first meeting of 2022 Featuring
WAYNE ECKMAN & FAMILY!

Wow can it be that WAC is now into its 17th year? Hard to believe our little club got started in 2005 - and here it is 2022!
We look forward to a great time with some wonderful music and Wayne has promised a few surprises for us! So come join us as we welcome in 2022!

Monday, December 6 - Christmas time at Joy Luck!

This year WAC will celebrate Christmas together at Joy Luck on December 6th at 6:30 PM. Plan to order your favorite dish and join friends for some great conversation followed by our Christmas Open mic music party!
Yes, all members are invited to play a favorite Christmas song or two. This has been an annual tradition that we are bringing back this year. Pull out your accordion and dust off Jingle Bells whether you decide to play or not we will all have a great time!

Monday, November 1, 2021 - What a great meeting

First we heard from student McCoy Royall. Then we had the wonderful treat of hearing Steve Keen & David Atman. Together Steve & Dave's music was entertaining, inspiring, and beautiful with rich harmonies. The combination of Steve on accordion with David on clarinet was mesmerizing. We thank both Steve & David for the time, talents and good humor. They were AMAZING!


It is so good to be back, seeing, talking, and listening to live music. Thanks for being such a great accordion family. It is a pretty exclusive club and we love having you be a part of it. We would love to expand and grow our group, so please invite your friends to come and enjoy! - Sandy Hunsaker

Monday October 4 - With Alice Cipollini

Thank you
Alice Cipollini
for a fun-filled evening of music! We followed the leader singing and listening to wonderful accordion music! We celebrated all things Italian for Columbus Day – Bravissima Alice!

Monday, September 13 Pat Whall memorial!

We will hear from accordionist Andy Connolly (Ranger Andy during the day at the Natural History Museum).
Then we will have a short program to honor our dear friend Pat Whall - who was always there for the Wasatch Accordion Club. If you have good memories or stories you would like to share please let either Paul or Sandy know.
Followed by a few songs played by Paul Pasquali in Pat's memory.

Click here to see Video of Memorial to Pat.
Joy Luck August 11 - Wednesday - With Gordon Kohl!

We are meeting on Wednesday because it is the last day of Camp Concerto. This will be a normal club meeting at Joy Luck - so we meet at 6:30 and everyone buys their own dinner then we have music from some of the Camp members with a Grand Performance by Guest Artist Gordon Kohl. Make sure to come join this special evening!

July 12 is our next meeting - and it Starrs YOU!
It is a July tradition - This month it is your turn to take to the stage and play one or two of your favorite songs. Everyone is welcome - if you want to play let Sandy know (you can text her at 801-628-1853). If you want to sit in the audience and enjoy some great music - just show up. Dinner seating starts about 6:15-6:30 and when we finish our meal together the music starts!

Our June 7 meeting was a great success!
This was our first live meeting in over a year and Garry & Mindy Garff provided us with an amazing re-opening! They played folk songs; some Broadway and Garry performed a Neil Diamond song. We had about 30 people in attendance. It was magnificent to be together again and hear such wonderful accordion playing!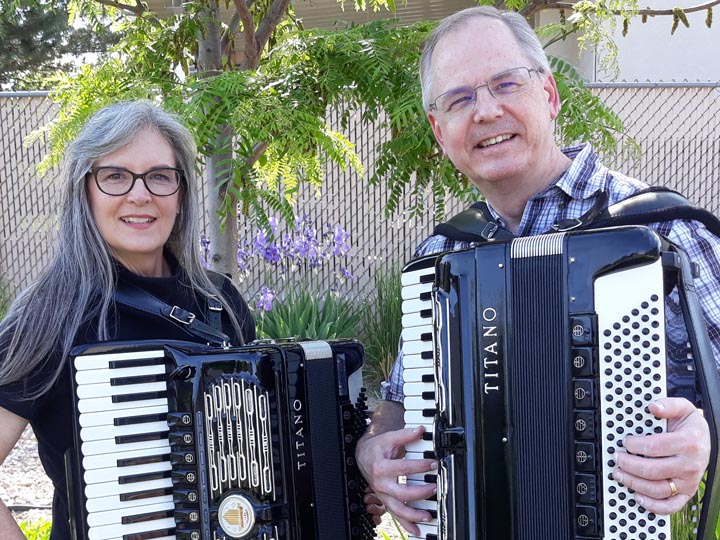 Wednesday – August 11, 2020 (Camp Concerto Concert) – 6:30 Dinner Seating Joy Luck